Pediatric cardiology diagnoses, cares for, and provides long-term treatment for congenital or acquired heart disease and heart problems from birth up to 18 years of age.
It is also possible without the existence of specific complaints to do a general health check screening which is essential for example for children who exercise regularly, as in such cases it is even life-saving to screen out cardiovascular risks prematurely.
A condition screening is also needed for all children who are significantly overweight, have a sedentary lifestyle and are eating unhealthily.
Our pediatric cardiology not only provides general medical examinations, but also uses modern medical equipment at our Institute to diagnose cardiovascular diseases and to screen out various risk factors.
In all of this, tests such as a 12-lead or exercise ECG, cardiac ultrasound (echocardiography), blood oxygen monitoring (pulse oximetry), but also 24-hour blood pressure and ECG monitoring may be needed.
About congenital and acquired childhood heart disease
Children with heart problems are generally said to be mostly congenital. In more severe cases, the heart problem is usually recognized immediately after birth, causing a life-threatening condition in the baby that requires immediate surgery. However, less severe congenital heart disease often only first appears in children at the age of a few weeks or a few months and not often detected by parents but by doctors at screening tests.
Common symptoms of congenital heart disease
during feeding, the baby gets tired too soon, takes a deep breath, and may start sweating;
high respiratory rate at rest;
the baby's weight development unexpectedly starts to stagnate, sometimes decrease;
frequent reddening and pallor of the skin
In addition to the above symptoms, your pediatrician may experience too low or too high heart rate, irregular heartbeat, high blood pressure or possibly a difference in blood pressure between limbs.Whatever the possibility, it is essential to see a pediatric cardiologist immediately!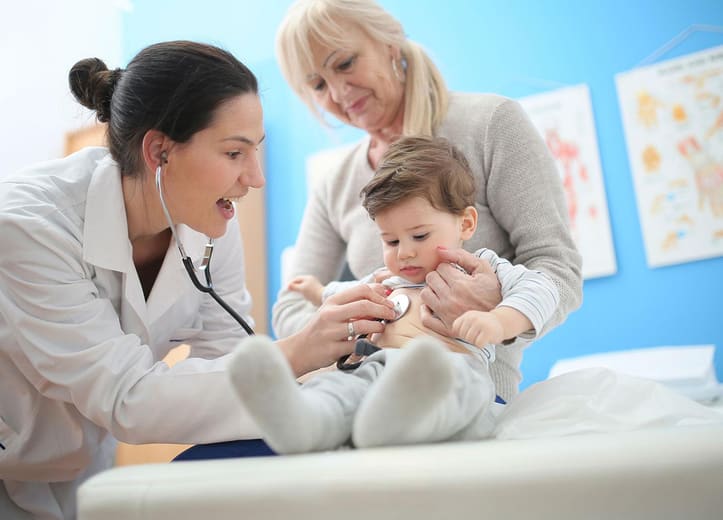 It is important to point out that in many cases, some of the above symptoms not always indicate heart disease so heart murmur can be a benign lesion, for example. Clarification of this should always be the task of a pediatric cardiologist. In contrast, acquired heart diseases are mostly functional origin and they are caused by some kind of dysfunction.
Common symptoms of acquired heart disease
arrhythmia (too high, too low, or irregular heartbeat);
palpitations, loss of consciousness, malaise;
myocarditis;
pericarditis;
inflammation of the lining of the heart;
hypertension.